When the new year was coming around and I was thinking about goals for 2021, I decided to go off refined sugar for the entire year. Did I think it was a crazy idea? Yes. But considering that sugar is my BIGGEST weakness when it comes to my health I figured I may as well do something drastic to improve. Well, guess what… I lasted two weeks! Which by my standards is a pretty big feat. Ha ha! But I felt like once that first spoonful of ice cream reached my lips it was all over.
So I went from nothing, to all
For the next week (and then some) I pretty much ate any and all treats that I could get my hands on. A box of Crumbl cookies? Yes please! A late night pint of Ben & Jerry's Tonight Dough? My freakin' favorite. Or even a bag of chocolate kisses that my friend brought with her when she came over for lunch? Sure, why not? And there I was again. Stuck in this never-ending cycle that I like to call "all or nothing."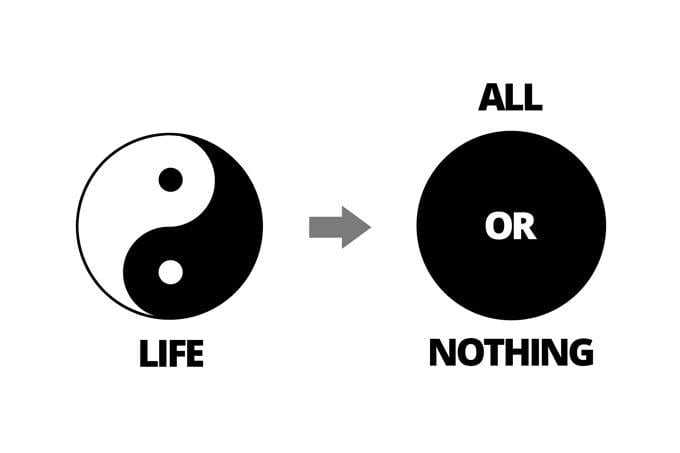 Stop breaking the dishes
One time when I was talking to a friend about this "all or nothing" mindset she told me a story that a friend had shared with her. "Imagine you're in the kitchen doing dishes and as you go to put a plate away it slips out of your hand and shatters on the floor. Obviously you're bummed but you don't start grabbing dishes out of the cupboard and smashing them on the floor!" We laughed together at how ridiculous it would be to do something like that. So why do we do it with our health? (I'm stepping out on a limb here and guessing I'm not the only one who does this) We make a goal to go to the gym Monday through Friday, but when we miss a day we might think, "Well, I can't hit that goal now. Why bother going the rest of the week?"
The mindset
Recently I've been trying to understand why I do this to myself. Why do I believe that it needs to be all or nothing? And here's what I've decided: my brain wants to take the easiest route. Now that may seem a little dramatic, but hear me out.
I truly believe that my intentions are good. When I'm consistently binging on sugar I do NOT like how I feel. I feel obsessed with the next treat I get to eat, I don't like regular, nourishing foods as much, I spend money on sugar that would serve me better being spent elsewhere, I don't perform as well when working out, and I gain weight along with other things. So when I tell myself, "I'm not going to eat sugar for a year," my brain says, "that's a good plan because you don't like how you feel when you're eating lots of sugar anyway! And it'll be easy if you never have to decide whether or not you'll eat that treat." Or I may go to the other extreme and tell myself, "forget it. It's way too hard not to eat sugar so I'm just going to eat it whenever I feel like it." To our brain, all or nothing is "easy" because it doesn't require us to get uncomfortable and practice patience or self-compassion when we're somewhere in the middle. But when we get focused on creating a certain result no matter what it can be pretty detrimental to our mental well-being.
Help support this author by checking out some of Whole Body Coffee's products. If a purchase is made using the link below, the author will receive a payment.
This is not a personal endorsement of Whole Body Coffee's products by the author.
---
How do we fix it?
I'm right in the thick of this, so I'm not going to pretend to have a magical solution. However, I think I'm starting to get a pretty good idea of what works. The three things I recommend are:
Practice self-compassion
Believe that each choice matters
Act from a place of love, not fear
Practice self-compassion
I'm not here to tell you what specific choices to make (IE: how many treats to eat per week or how many times to work out) because I truly believe that only YOU can figure out what will work best for you. So when I say "practice self-compassion" that means being kind to and loving yourself no matter what you're striving for. If your goal is to make it to yoga three times this week but you only get there once, congratulate yourself for going once. If you're shooting to eat five servings of veggies a day and you eat three, that's three more servings than if you hadn't tried at all! Thinking in a way that fosters patience with yourself and gratitude for your good choices will surely make the journey more enjoyable.
Believe that each choice matters
This one is big. When we get stuck in "all or nothing" thinking we trick our brains into believing that one poor choice is the same as making 10 or 15. Have you ever had any of these thoughts?
I already ate two cookies so I'll just eat the whole package while I'm at it.
I stayed up later than I planned so I might as well stay up all night.
I haven't prayed for months so why start tonight?
But if we can catch ourselves in that lie, we can change it. EVERY choice matters. So at any given moment when you feel like you've let yourself down, take a breath, and make the next choice count.
Create an account on wholebodycoffee.com to be enrolled in our rewards program. Rewards points can be redeemed for generous discounts on our products.
Calling all caffeine junkies, this coffee packs a serious punch! We understand that not all coffee drinkers are alike. If you are the kind of coffee drinker that needs to be smacked in the face by a heavy bodied, bold cup of coffee in the morning with nearly double the caffeine, we have you covered.
Love, not fear
When I'm working toward a goal and making choices based in fear, I feel yucky mentally. And even if I do accomplish what I'm working toward, it never lasts. This mindset is a little tricky because it's so intangible. Read the following examples and pay attention to how you feel.
"I don't want to eat that cookie because then I'll gain weight."
"I'm going to snack on veggies instead of a cookie because I'll feel better afterward."
"I'm not going to open up to my spouse about my depression because I don't know how to face the pain."
"I'm willing to be vunerable because I know I need help and can't figure this out on my own."
"I need to do cardio today to burn off all the calories I ate yesterday."
"I'm going to go to the gym because I love how I feel after sweating it out."
Do you see what I mean? If we can move away from fear and into love for who we are and for our efforts, not only will our successes be long-lasting but our mental health will be so much better.
In conclusion
So there you have it! A few ideas to help you move from away from an "all or nothing" mentality and closer to a mentality that encourages love, gratitude, strength, peace, and forgiveness. I'd love for you to try any (or all) of these things and share a comment about how it goes! I wish you the best in everything.
Be well,
TRIN